A US boy who made history as the world's first child to have a double hand transplant is now swinging a baseball bat well, his doctors say.
It is two years since Zion Harvey, who is now 10, was given new hands, and his doctors say they are amazed by and incredibly proud of his progress.
Zion can now write and feed and dress himself, as well as grip a bat.
Although his hands came from a donor, his brain has accepted them as his own, medical tests show.
Dr Sandra Amaral, a member of the team treating Zion at the Children's Hospital of Philadelphia, told the BBC that Zion continues to make significant progress.
"He is able to swing a bat with much more co-ordination, and he can write his name quite clearly.
"His sensation continues to improve. It's amazing.
"Now he can pat his mother's cheek and feel it."
Dr Amaral said there was evidence that his brain had rewired to take account of his new hands.
Zion was born with two hands but when he was aged two, doctors had to amputate them.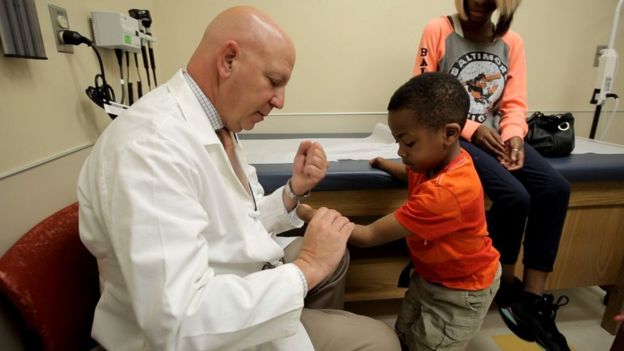 In his own words: "When I was two I had to get my hands cut off because I was sick."
Zion had sepsis, a life-threatening infection. Doctors removed both his hands at the wrist, and his legs below the knee because they were dying. His kidneys also failed.
At the age of four, after two years of dialysis, Zion had a kidney transplant using a kidney donated by his mother Pattie Ray.
It was another four years before the boy from Baltimore got his new hands.
To read more, please visit BBC