Tennis player Maxime Hamou is facing criticism after trying to kiss a female reporter repeatedly during a live interview at the French Open.
The French player, 21, attempted to kiss journalist Maly Thomas while holding her around her neck and shoulders, despite her efforts to duck away.
It happened after he was knocked out of the first round of the competition.
Hamou has not publicly responded to complaints about his behaviour.
The incident, which took place at Roland Garros on Monday and was broadcast on Eurosport programme Avantage Leconte, has drawn ire on social media, including from French politician Cécile Duflot.
"He kisses her by force, she tries to get away, he holds her by the neck and everyone… laughs #tired," the Green MP wrote on Twitter (in French).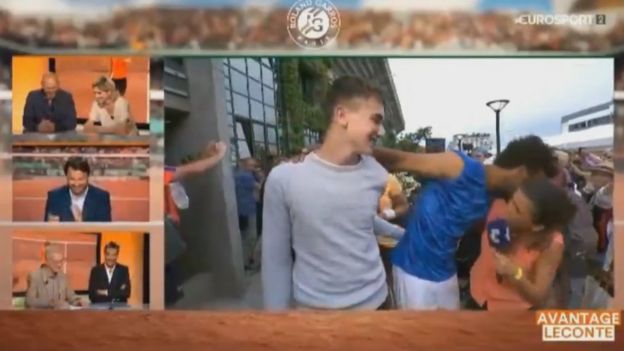 Quoted by the Huffington Post France, Ms Thomas described the player's actions as "frankly unpleasant".
"If I hadn't been live on air, I would have punched him."
The BBC has contacted Eurosport for comment.