United Airlines is investigating the death of a giant rabbit which was being transported on one of its planes.
The 90cm-long bunny, called Simon, was found dead in the cargo hold when the flight arrived at Chicago's O'Hare airport from London Heathrow.
Reports in UK media say the 10 month-old giant rabbit was being delivered to a new "celebrity" owner.
United, which has had a torrid few weeks of bad publicity, said it was "saddened" by Simon's death.
Animals dying on planes is rare but not unheard of.
US Department of Transportation figures show that in 2015, the most recent data available, US airlines reported 35 animal deaths.
Of those, 14 deaths were on United flights, with a further nine creatures injured. Across the year, United carried 97,156 animals, meaning there were 2.37 incidents for every 10,000 animals transported during the period.
That was the highest rate seen on any US airline, according to the data.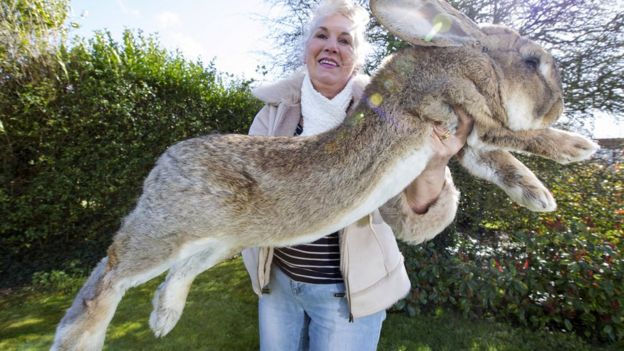 In a statement sent to the BBC, United said: "We were saddened to hear this news. The safety and well-being of all the animals that travel with us is of the utmost importance to United Airlines and our PetSafe team.
"We have been in contact with our customer and have offered assistance. We are reviewing this matter."
The Sun newspaper reported that Simon was the 10-month-old son of the world's largest rabbit – a 1.3m-long continental giant rabbit called Darius – and was expected to have grown larger than his father.
BBC