The attacks this week on Coptic churches in northern Egypt underline the dangers faced by the country's Christian minority. But among the Nubians – an ancient nation that lives along the upper reaches of the Nile – Muslims and Christians mostly live in harmony. Nicola Kelly attended a Muslim-Christian wedding, celebrated discreetly after nightfall, in the southern city of Aswan.
"Everyone kept telling me I should marry a girl from my community – but it was impossible," Akram says, his eyes crinkling. "I couldn't stay away from her."
It's the morning of Akram's wedding, in a village on the western bank of the Nile, and he's busily preparing to go to the mosque to say his vows.
This won't be a traditional ceremony. Akram will be taking his vows alone while his Christian bride-to-be Sally recites her prayers quietly at home.
"We're the first people to marry outside of our religion here. That's very difficult, especially for my parents," Akram explains.
For seven years, the couple were banned from seeing each other by both sets of parents.
Members of the community, religious leaders and friends tried to prevent them from meeting, but they still managed to arrange some brief encounters.
"We agreed to get married at night, so as not to bring shame on either of the families," Akram says.
For Nubian couples like Sally and Akram, marrying across the religious divide is not forbidden – haram – but it remains a social taboo. So they celebrate the day individually until, at night, they meet under cover of darkness and mark their first moments of married life with a dance.
Akram and Sally met seven years ago in Aswan, on the eastern bank of the Nile, where young people hang around, eat ice cream and flirt. It's just a short boat ride from their village, Shadeed.
"She liked my jokes," Akram says, with a cheeky glint in his eye. "And I always looked forward to seeing her. It hasn't been easy, but we're here now."
Elsewhere in Egypt, Akram and Sally's marriage would be a risky undertaking.
Since the revolution in 2011, attacks on Christians in Egypt have soared. There were 54 recorded incidents of violence against religious minorities last year, in addition to a deadly suicide attack on the Coptic Cathedral in Cairo shortly before Christmas.
Earlier this week, 45 people were killed and scores injured in two further bombings at Coptic churches in Alexandria and the nearby Nile delta city of Tanta.
But Akram doesn't seem worried. He's slumped in the shade under a date palm, shovelling falafel into his mouth.
In the last week, he has had the same conversation more than a thousand times, going door-to-door to invite people to the wedding. This is the Nubian tradition. If someone received a written invitation they would be insulted, and would not attend.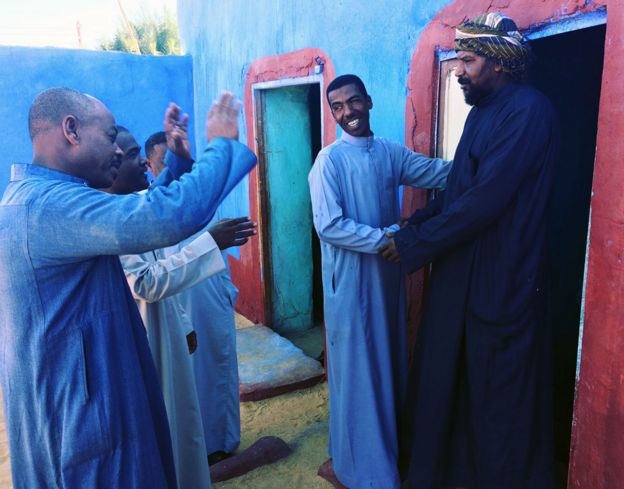 "Speaking to our neighbours, singing songs, eating and dancing. That's more important to us grooms than the religious part of the day, anyway!" he exclaims, offering me some jabana – coffee infused with cardamom and cinnamon.
Several cups later, his friends drag him up and nudge him across the sandy courtyard towards the mosque. As we pass through a mango plantation, Akram points to a ruined church.
"Some of the Christian buildings here have been attacked by outsiders, but we all got together and we drove them away."
To read more, please visit BBC