Syria's President Bashar-al Assad says reports of a chemical attack by his forces were "100% fabrication".
In an exclusive video interview with AFP news agency, he said "there was no order to make any attack".
More than 80 people were killed in the rebel-held town of Khan Sheikhoun on 4 April, and hundreds suffered symptoms consistent with a nerve agent.
Witnesses said they saw warplanes attack the town but Russia says a rebel depot of chemical munitions was hit.
Shocking footage showed victims – many of them children – convulsing and foaming at the mouth. Sufferers were taken to hospitals across the border in Turkey.
Mr Assad told AFP that the Syrian government had given up its chemical arsenal in 2013, adding "even if we have them, we wouldn't use them".
Since 2013, there have been continued allegations that chemicals such as chlorine and ammonia have been used against civilians, by both the Syrian government and rebel groups.
Turkey and the UK say tests show Sarin or a Sarin-like substance was used in Khan Sheikhoun, which would be the first time since 2013 that a prohibited chemical had been used on such a scale.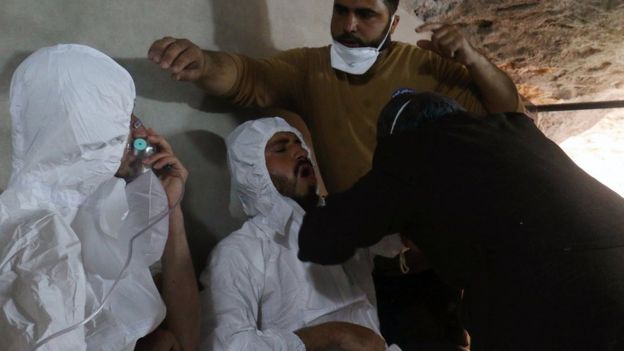 Mr Assad accused the West of making up events in Khan Sheikhoun so it had an excuse to carry out missile strikes on the government's Shayrat airbase, which took place a few days after the alleged attack.
"It's stage one, the play [they staged] that we saw on social network and TVs, then propaganda and then stage two, the military attack," he said, questioning the authenticity of the video footage.
He also said Khan Sheikhoun, in Syria's north-western Idlib province, had no strategic value and was not currently a battle front. "This story is not convincing by any means," he told AFP.