Rescuers are digging through mud and debris in the hunt for those missing after devastating mudslides in Colombia left more than 200 dead.
More than 1,000 soldiers and police are involved in the relief effort in Putumayo province.
Heavy rain flooded the town of Mocoa in the country's south-west, with mud and rocks burying whole neighbourhoods and forcing residents to flee their homes.
President Juan Manuel Santos said that 44 of the identified dead are children.
"Until we have the last person identified we are not going to stop," said President Santos, who flew to the area on Saturday after the landslide struck.
There were at least 400 people injured and 200 missing, the army said.
Video footage from Mocoa showed residents crying over a list of missing children, with their names and aged pinned to a board.
"We have lost a baby, who has gone missing," one resident told reporters. "A little baby, we can't find him anywhere."
The exact death toll is hard to confirm with the rescue operation still under way.
Some local media estimate up to 300 people have been killed, while the Colombian Red Cross has a total hovering above 200.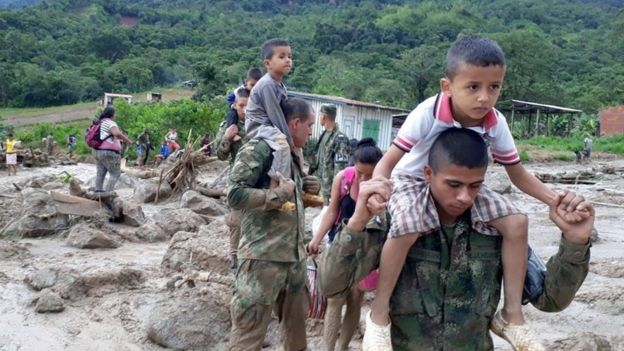 The Red Cross said it was working to help family members contact each other, and the Colombian Air Force has brought supplies.
The landslide struck in the early hours of Saturday morning, when many people were asleep in bed.
Colombia's director of the National Disaster Risk Management Unit told the AFP news agency that a third of the region's expected monthly rain fell during one night.
Although rainfall is abundant in the area, this downpour was unusually heavy and caused rivers to burst their banks.
The overflow then picked up mud and debris, creating a cascade.
Video footage of the aftermath showed currents so strong that abandoned lorries were propelled through the flooded streets.
BBC